AdBlue® for cars, - save, clean, quick and efficient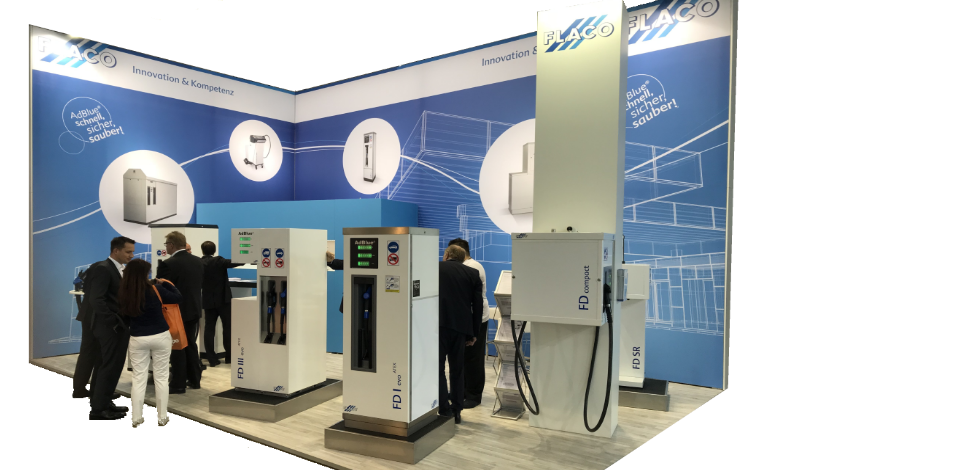 This were the main topics on the FLACO booth during "UNITI expo" trade fair in Stuttgart, Germany
AdBlue® refill of cars/ldv from canisters is not welcome among petrol station owners.
More and more customers bring their AdBlue® canisters from other sources. There are on the one hand not sufficiently emptied canisters, which must be disposed of as hazardous waste, on the other hand, some amounts of spilled AdBlue® from canisters land on the petrol station area and cause staining.
During UNITI expo, FLACO presented solutions to these growing problems.
With the new series of TCI dispensers with integrated tank, FLACO solves in particular challenges for petrol stations that are heavily influenced by car customers and that do not yet have an AdBlue® dispenser. There is usually only little space between the existing dispensers and solutions for backfitting are the field for specialists as FLACO.
"Our turnkey dispensers with integrated tank hold 800 or 1,000 liters of AdBlue® and are built for backfitting. That way, a clean and customer-friendly AdBlue® car refill solution can be created with little effort," reports Thomas Voigt, Managing Director of FLACO-Geräte GmbH.
FLACO also presents economical and market-oriented systems for the AdBlue® refilling of cars for operators AdBlue® tank containers for truck refills. With the FD compact, an ATEX-compliant AdBlue® dispenser can serve customers safely, cleanly and quickly for their refill with the diesel exhaus fluid. This wall-mounted dispenser saves space and can be easily installed without ground work - simply ideal for retrofitting very close to the car diesel column.
With the new and wider product range, FLACO is expanding the range of professional filling station solutions for the sale of AdBlue®. From large 10,000 liter tanks with built in MID dispensers to the mobile 100 liter "mobile dispenser", the product range extends to the coming needs of the market.
Thanks to the diverse cash register interfaces, FLACO dispensing points can be integrated into almost all POS systems.
Back To List